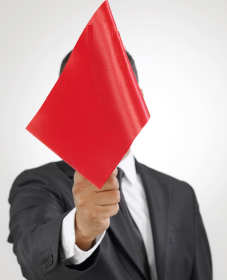 Relationship red flags wave everywhere.  You'd think we'd learn to see them.  And to heed them.  But if it's the right person who captures our attention.  At just the right time.  In just the right way.  Then all the relationship advice about red flags that we've been doling out to our friends.  Seems to fly out the window.  As if we're not susceptible.  As if red flags don't apply to us.  At least not this time around!

About every two to three weeks I hear the loud screeching of tires.  I've unfortunately almost gotten used to it.  Because I live very near a three way traffic intersection.  Kind of oddly angled.  Almost hidden even.  And for the uninitiated.  Those who've never gone this way before.  At least not through this particularly confusing intersection.  They often just don't see the signs.  The stop signs.  The red stop signs.  The large red stop signs.  The large red stop signs with bold white letters.
And whenever I hear the screeching of tires.  I wait about a second.  Because I know what's coming next.  I've heard it before.  It's the clashing of fenders.  In the middle of an intersection.  That is supposed to have only one car passing through at a time.  It just doesn't work too well when suddenly two cars start battling for the same space.  At least not when it comes to intersections.  Particularly this one.
It's odd.  The signs never move.  Day or night.  They're there.  Rain or shine.  They're there.  Big trucks or small cars.  They're there.  All the time.  But those who ignore the signs end up paying a high price.  Broken vehicle.  Broken insurance.  Maybe even broken bones.
Red stop signs at an intersection are a lot like red flags in a relationship.  But they can be so difficult to see.  When our vision has been obstructed with the infatuated look of love!  And we end up being set up for something none of us really bargain for.  Or see coming. A broken heart. 
Broken vehicles and broken insurance and broken bones.  Can all be fixed.  But a broken heart can stick with us a long time.  There's really no known cure.  Except time itself.  Lots of time.  If only we'd noticed the signs!
In their book "Celebrating Single and Getting Love Right," Dr. Marc Jusinitz and relationship expert Joan Allen list a number of what they call "blatant red flags noted by some of the single men and women interviewed" for their "Celebrating Single" book.
So here are some of the relationship red flags experienced by single adults first-hand.  If you have some flags you'd like to add in the comment section, feel free to let us know.  Maybe we can learn from your insight and/or mistakes!
"It's a red flag when dates tell you terrible stories about their ex-wives or girlfriends and take no responsibility for their role in the failure of the relationship."  (Jane, age 46)
 "A classic red flag for me is lying.  If a lie is done to protect someone's feelings, it's a social grace.  If it's a profound lie and digs into the fundamental basis of your relationship, it's unforgivable.  I hate being betrayed."  (Vince, age 43)
"I think it's important that a man I meet love his parents.  (Not too much though.)  Because someone who loves his parents is able to love you.  It's a danger signal to me if a man doesn't have any friends and doesn't get along with his family."  (Rebecca, age 39)
"One man said to me he didn't like his own child because she looked like his ex-wife and was overweight.  Another man said he had grown-up twins but hadn't seen them since they were five because his wife took them to another state.  I went out with another man who hadn't seen his son in twelve years.  He never bothered to contact him because he lived too far away.  How can you alienate yourself from your own flesh and blood?"  (Paula, age 45)
 "My last boyfriend had a temper.  It's not that he would hit me.  He would get mad at people in a car while he was driving or get irritated with service people, like waiters.  His excuse was, 'I'm from New York.'"  (Ginny, age 40)
"Up until now, I was a hopeless romantic.  I would fall in love and be blind to things I shouldn't have been blind to such as incompatibility and behaviors I should have noticed as red flags and didn't.  One woman constantly criticized me in public and let out sarcastic remarks that would make Roseanne (Barr) look gentle."  (Gene, age 50)
 Those are just a few of the red flags that Kusinitz and Allen note in their book "Celebrating Single."  What relationship red flags would you add to the list?